At Shanti Ayurveda, we are committed to providing ongoing education regarding the amazing science of Ayurveda. Here you will find lots of opportunities to grow, learn, experience and connect! Please check back often to learn about upcoming special events!

Current Events in the Yoga & Ayurveda Community
AYURVEDIC NUTRITION: THE ART OF CONSCIOUS EATING
Join us for an amazing opportunity to learn the wisdom of Ayurveda at a stunningly beautiful yoga ashram in the Bahamas!
In this five day program, Marisa Laursen (Sri Devi) will take you on a personal journey into one of the most fundamentally important areas of caring for yourself: the food you eat. You will learn to understand what type of diet is right for you as well as all of the fundamental principles of Ayurveda and how to use food as a source of health and healing in your life. You will also learn that health is based not only on what you eat but also on how you eat. And, by eating our meals together, we will practice healthy eating habits which will promote better digestion and health.
Nothing is right for everyone. Everything is right for someone. At this workshop, you will be empowered to understand what foods are best for you ~ and in doing so, create a foundation of health in body, mind and soul!
March 31 - April 4, 2014
Sivananda Ashram Yoga Retreat
Paradise Island, Nassau, Bahamas
____________________
Ayurvedic Yoga Therapy Certification Intensive
with Dr. Marc Halpern, Founder and President of the California College of Ayurveda and Marisa Laursen, CAS, AYT, PKS
This 12 day residential training program is designed specifically for yoga teachers and is taught directly by Dr. Marc Halpern and Marisa Laursen. Participants will learn how to adapt yoga classes toward the specific needs of each individual, including deep instruction in the use of asana, pranayama, chanting and meditation for healing purposes based upon ayurvedic principles. In addition to learning how to apply this knowledge to others, this program also provides an opportunity for a personal journey within, allowing you to explore your own ayurvedic constitution and create a lifestyle that leads to inner peace and healing. Course graduates will receive a certificate from the California College of Ayurveda.
Curriculum:
Fundamental principles of ayurveda (philosophy, five element theory, doshic theory)

Basic diagnostic skills to determine constitution and imbalances

Ayurvedic and yogic psychology

Raja yoga from the perspective of health and healing

The energetics of asana

Pranayama for balancing the doshas

Yoga nidra and the healing process

Karma yoga and the healing process
This program is held in various locations worldwide:
Sivananda Ashram Yoga Retreat
Paradise Island, Nassau, Bahamas
March 17-29, 2014 (13 day program when held in Paradise Island)
www.sivanandabahamas.org
Sivananda Ashram Yoga Camp
Val Morin, Quebec, Canada
August 24 - September 4, 2014
www.sivananda.org/camp
Bethlehem Retreat Center
Nanaimo, Vancouver Island, British Columbia, Canada
July 19-30, 2014
http://www.koiyoga.com/#!ayt-training
Ancient Yoga Center, Austin, Texas
September 13-24, 2014
http://www.ayc-ayurvedicyoga.com
____________________
Interested in a Career in Ayurveda?
Classes now forming at the local campus of the California College of Ayurveda.  Weekday, weekend, internet and distance learning options available. For more information…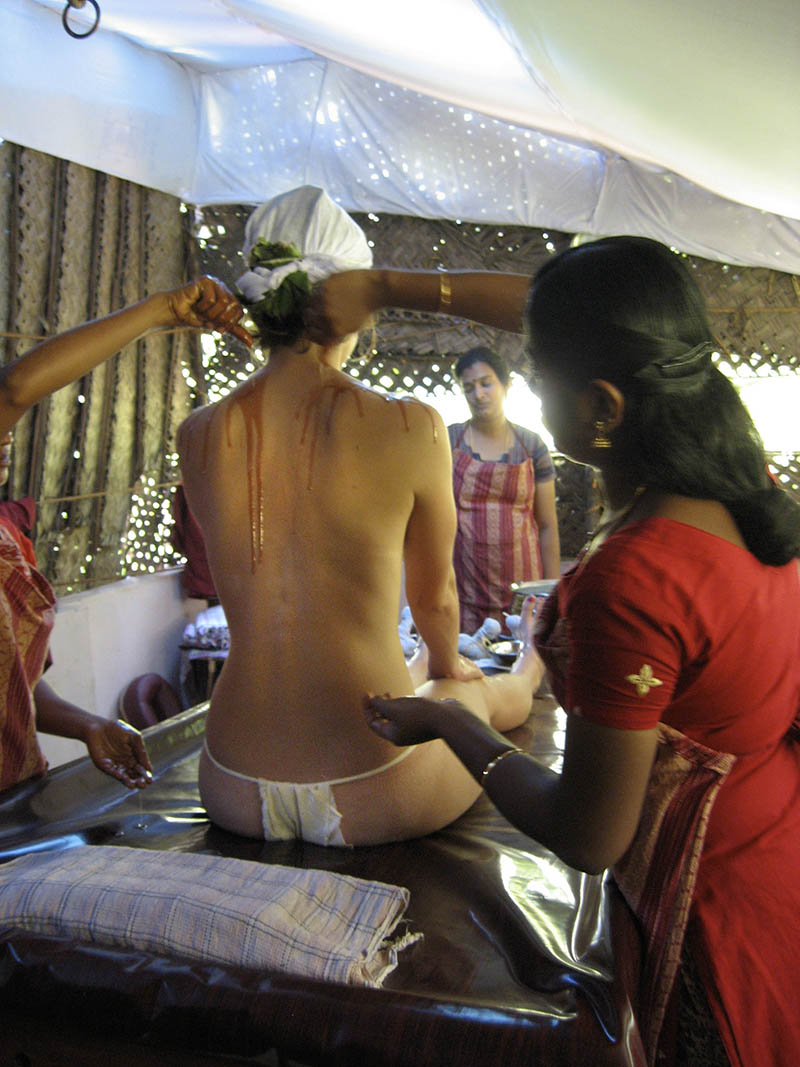 MARISA'S ADVENTURES IN INDIA


Marisa recently returned from an amazing, life-changing journey to Kerala, India - the birthplace of Ayurveda. She was awarded a scholarship trip to Rasa Ayurveda, a traditional Ayurvedic healing retreat center. She was one of eight women awarded this special scholarship trip, and the trip became an adventure of healing, medicine-making, plant wisdom, cultural awareness, inner reflection – and, ultimately, a transformative journey into her heart and soul…

Marisa enthusiastically documented each step of the way, and wishes to share her journal with others, so that they too may experience a glimpse into the culture of India and the richness of Ayurveda…

Marisa's Adventures in India - Part 1...

Marisa's Adventures in India - Part 2...